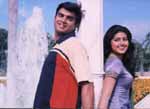 1) Tamil film 'Ennavalay'
2) Tamil film 'Anandam'
3) Malayalam film 'Ingane Oru Nilapakshi'
4) Tamil film 'Virumbikiren'
5) Telugu film 'Tholivalapu'
6) Telugu film 'Priyamaina Neeku'
7) Tamil film 'Paarthaale Paravasam'
8) Tamil film 'Pammal K Sambhandam'
9) Tamil film 'Punnagai Desam'
10) Telugu film 'Hanuman Junction'
11) Eey Nee Romba Azagha Erikke Tamil film
12) Unnai Ninaithu Tamil film
13) King, Tamil film
Review of the tamil film 'Ennavalay'
(Source : www.indiainfo.com)

Ennavalay the second release after Alai Payuthe has proved to be a disaster for Madhavan as an actor and the choice of subject has been bad because its old wine in new bottle. The film has many similarities to the hit film Puthu Vasantham and the revelation that the heroine is a divorcee comes as no surprise because we have seen it before. Rajkumar's repetitive tunes for this musical romance is yet another drawback.

Madhvan and his three friends (one is blind, other is deaf and another speaks in a female voice) form the members of a music troupe, which sings at marriages. They are all inmates of an orphange. They stay in a house where Sneha is the daughter of the landlord. Meetings and then love and then the hero come to know that she is a divorcee (but still a virgin) but the heroine is not ready for him. But when she confesses her love before the deaf friend, he spoils the whole affair, as he doesn't understand what Sneha has told him. And he tells Madhvan that she wishes to be left alone.

Landlord asks Madhvan to vacate and he in turn denies that he was in love with her. Marriage is fixed for Sneha. Madhvan is the singer. Bridegroom turns out to be keen on the dowry. Clashes occur. Next-door neighbor reveals the truth of Sneha's love. Its time for reunion. Madhvan fails to infuse any life into the role and does not exude any charm or freshness in his way of acting. Sneha the debutant however infuses life into her performance and shows promise. Charlie as the blind man gives a good account of himself and the role evokes sympathy. The second half the director (Suresh) fails to maintain the tempo and ends very tamely. Camera by Ashokrajan has nothing to offer.

Review of the film 'Anandam'
(Source : www.chennaionline.com)

Director: Lingasamy
Cast: Mammotty, Murali, Abbas, Shyam Ganesh, Devayani, Rambha, Sneha

It is a window to display Mamootty's immense talent. As Tirupati, the eldest of the four, who has to take care of his aging parents and three brothers, and raise his family's financial and social status, Mamootty is excellent. The rest of the performers have to just fall in line.

Tirupati gives up his bachelorhood when he meets Bharati the comely belle who he feels would fit well into his closely-knit family ambience. And she does. It is brother Madhavan's newly wed wife Renuka who makes many futile attempts to drive a wedge between the brothers. Kannan, the educated one, falls in love with the local don's daughter Viji. It is Tirupati's tact and sense again that turns the vengeful don into Tirupati's admirer. Unscrupulous business partners and rivals, all fall by the wayside, as they try to take on the might of the four brothers. In this syrupy tale of sibling bonding, all pieces fall neatly into place. It is a promising work from the debutant director. Only that it reminds one a lot of the other sibling-bonding film 'Vanathaippol'.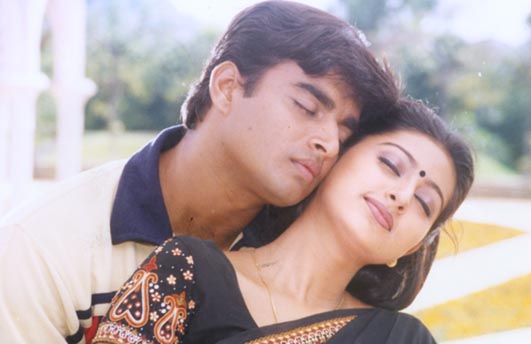 Ingane Oru Nilapakshi

(Source : http://movies.indiainfo.com/malayalam/)

Starring: Kunchacko Boban, Sujitha, Manasi & Srividya
Director: Anil-Babu
Music: Sanjay-Antra Chowdury

The story revolves around Uma (Sujitha) who wrongly assumes that her love is reciprocated by Charly (Boban), the happy-go-lucky boy she grows up with. She realizes her mistake when Charly leaves to learn music and returns with Manasi the girl who sings with him. Uma then decides to be independent of Charly. But very soon Charly too starts realising Umas place in his life.

Kunchacko Boban, who has so far been used by directors to do desi rap, gets a chance to perform classical dance in the film. And does a fine job too though its unlikely that the audience will take a liking to it. His sensitive portrayal of a man caught between his love for dance and music and a girl who dotes on him is excellent. Sujitha, the child artiste who was discovered by Fazil in Varsham Pathinaaru, gives a very fine performance.

This film has some very good music by Sanjay-Antra, the son-daughter duo of Salil Chowdury and the choreography by Kala is impressive. Debutant Manasi manages an average performance.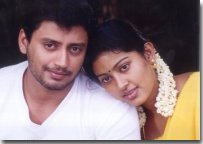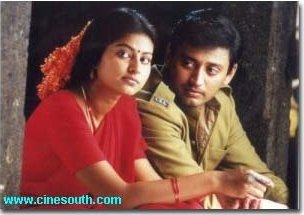 Review of the Tamil film 'Virumbukiren'
(Source : www.cinesouth.com)

It is a rare feature in Tamil filmdom to translate a novel into a film. But Susi Ganesan is different. He is making the film 'Virumbukiren' one of his novels, 'Vakkappatta Bhoomi'.

He has made the best use of the information and experiences garnered by him during the travels undertaken by him in many villages for writing his novel, in his film too.

The stormy Prashanth turns into breeze land and the breezy Sneha becomes a tempest. Love effects this transformation in them. The onus of family responsibilities weighs both of them down. On account of them they are forced to meet many dire consequences.

This is the crux of the story.

In these times when other people are concentrating on making city subjects centering on youth. Boldly, Susi Ganesan who had been a deputy to Director Mani Rathnam has banked upon a Village subject.

This year, Prashanth relies very much on this film. The world-trotter, Prashanth, has restricted himself in this film within the confines of Tamil Nadu. It is a wonder.

Sneha was booked first for 'Virumbukiren' only. But 'Ennavale' has overtaken 'Virumbukiren'. Stills bear testimony to the fact that Sneha has a unique to role to play in her very first film.

K.V.Anand, Deva and Vairamuthu have an acquitted themselves very well in their respective fields. Hearty congratulations to them! Till now K.V.Anand was associated with fantasy films. He has brought out the beauty of a village to light in various angles, in this film.

Deva and Vairamuthu have created the sweetness that is created by two anklets, worn by a girl, in the songs of the film.

The film has a different type of village theme. It has choice locations and an efficient technical team. All these things compel us to see the film as early as possible.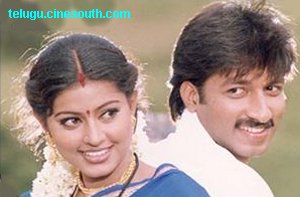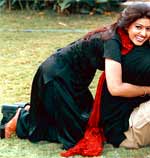 Tholivalapu
Cast - Gopichand, Sneha, Chandra Mohan, Madhurisen, M.S.Narayana, L.B.Sriram, Ali, Goutam Raju, Sudhakar, Sudha, Kalla Chidambaram


Producer - M.Nageswara Rao


Music - Vandemataram Srinivas


Story & Dialogue - Varma


Camera - R.Rama Rao, K.V.Ramana


Screenplay & Direction - Murthi Sriram


Banner - T.Krishna Memorial Films

T.Krishna Memorial has its own 'mudra' in cinema making. Their movies feature a social cause and a message. The idealism they intend to reflect is extended to Love, this time, in Tholi Valapu.

An expert in conceiving Love and Family themes, Director, Muthyala Subbaiah deserves a first say. Being a disciple of late Director, T Krishna, tried his best to elevate Gopi Chand, son of T Krishna, as a Hero and proved his Guru Bhakti..

The very title suggests that Tholi Valapu is a Love story. However it has a touch of Social cause in it, for a change.

Coming to the subject of Tholi Valapu,

L.B.Sriram, father of Gopichand is an agriculturist, lives in his native village. He is not only forward minded and practices too in day-to-day life. Gopichand pursues for a PhD, after his Post Graduation in City. He is staright forward and forward thinking unlike many contemporary youths. Being an youngster Gopichand is fond of Motor Cycles like any other youth of the day.

He buys a new Motor Bike and wants to go for a ride in the city. Unfortunately the Bike breaks down, enroute. Enthusiastic Gopichand gets upset and goes to a nearby house and request to keep his Bike.

The house belongs to Chandra Mohan, a honest Retired Revnue Inspector. Sneha is his daughter.

Gopichand gets fascinated in the very first sight at Sneha.

Gopichand leaves Bike along with his heart in Sneha's house for the day.

Next day, when Gopichand approaches Chandra Mohan and Sneha for his Bike, they pretend innocence and say they do not know anything about Motor Cycle.

Gopichand gets shocked and could not say anything as he fell in Sneha's Love.

However he chases Sneha and demands for return of his Bike.

Chandra Mohan and Sneha sell off their house and pay the value of Bike to Gopichand.

Meantime Gopichand gets a call from Police Station to take the Bike they recovered from culprits.

Gopichand surprises at the developments and approches Chandramohan for a clarification.

He comes to know that the day he left the Bike in their house, some culprits looted the Bike and other items, during the mischief they rape Sneha, too.

Gopichand gets moved after knowing the bitter facts and sympathises, Sneha. His Love for her, enhances.

Ravishankar is Sneha's Baava and a sadist.

He tries to squeeze money as much as possible from Chandra Mohan, his father-in-law.

He creates many problems after Sneha's episode with his nasty behavior and troubles the family further.

Gopichand also faces many embarrassing circumstances because of Ravishankar.

Gopichand and his effort to make Sneha's life, perfect, is the remaining story of Tholi Valapu.

Gopichand, Sneha, Ravishankar acted well.

L.B.Sriram and Chandramohan lived in their roles.

Sudhakar, MSN, Kalla Chidambaram, Ali and Goutam Raju contributed comedy.

Muthyala Subbaiah's Direction is good but not as expected to the standard of his earlier masterpieces of family drama. Screenplay and Editing is sub-standard.

Vandemataram Srinivas's tunes appear to be best in his career.

Cinesouth.com concludes 'Tholi Valapu' is an impressive show of love in a new dimension and worth, a try.

(Source : http://telugu.cinesouth.com/)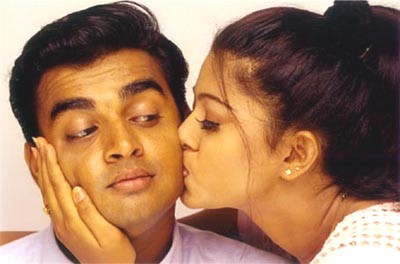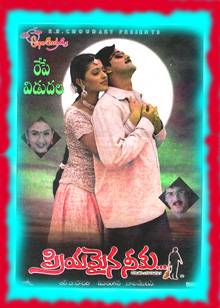 PRIYAMAINA NEEKU


Super Good Films


Starring :

Tarun, Sneha,
Sivaji, Tanikella Bharani,
Chandramohan, Ali etc...

Music : Siva Shankar
Director: Balasekharan
Producer: R B Chowdary


Super Good Films' latest is a love story "Priyamaina Neeku" with Tarun and Sneha in the lead is directed by Bala Sekharan and produced R B Chowdary. Director's advice in the movie, 'love, only if you have the courage to express it.'

Ganesh (Tarun) is a typical fun-loving, mischievous teenager. His father (Tanikella Bharani) owns a shop that sells 'used goods'. One day Ganesh, while at the shop fumbles upon an old diary in an almirah in the shop. He discovers that the diary belonged to Sandhya (Sneha) who had penned her silent love story in it. He remembers her to be the same girl who used to live in the house opposite to his sister's house. But as her father (Chandramohan) was transferred to Vizag, the family had moved there.

Ganesh sets out in search of Sneha to Vizag. As he does not find his friend Ramesh, he stays with Raghu (Sivaji), the latter's friend. Ganesh searches for Sneha in vain. Meanwhile Sneha's family arranges her marriage. By the time, Ganesh comes to know her whereabouts, he realizes that she is soon to be married to none other than Raghu. Distressed, but unwilling to come in the way of this marriage between his host and his lady-love, Ganesh goes back home. Unable to bear her brother's disillusionment, Ganesh's younger sister Sireesha (Preethi) reveals the silent love between Ganesh and Sneha to Raghu. Raghu makes way for the lovers by marrying Preethi.

This movie may not add great value to the Super Good Films banner, but certainly won't ruin their reputation. Variety in the story is sure to add to the movie's strength. Some scenes look 'stretched' and slow down the pace of the movie, but the deft handling by the director make one gloss over the minor defects. Comedy by Ali and Venumadhav is good. An excellent role for Tarun to prove his prowess, and he does it with aplomb. Love stories generally have good music score and all credit goes to Sivasankar for his superb songs. Syam K Naidu's photography is excellent.

(Source : www.andhratoday.com)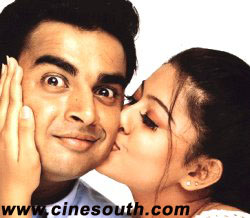 Paarthaale Paravasam (Tamil)
100 is a magical number in filmdom. Directors who offer a '100 days-successfully-ran-movie' don't necessarily go ahead and make their 100th directorial venture. But K.B's hardwork and pace has made that possible.

What happens when 'Mouna Raagam' is made with a touch of KB? That's just what 'Parthale Paravasam' is.

Madhavan is a very successful young doctor. To add to it, he'd also starred in the lead in a Manirathnam flick. Womenfolk's are crazy about him(in the movie too?). A nurse working with him (Sneha) begins to fall in love with him. He marries Simran. In the meantime, Vivek and Lawrence are in love with Sneha and Simran respectively. One sided loves.

Trouble starts when Radhika Chowdry, who, when Madhavan was in the US, has had a child by him, arrives. His marriage breaks.

The rest of the story is about how the pairs break up, get into confusions, reconcile and end it all well finally. The usual KB's love-marriage-confusion-reconciliation stuff.

The first half of the movie is fun. It's only later that the story begins to heat up. And, as the screenplay gets more and more serious, the audience' uneasiness increases.

A successful hero in a Manirathnam flick normally gets flooded by movie offers. Not here in the case of Madhavan. His success is limited to a mole of autograph-seekers that throng around him whenever he goes. Another glaring mistake is Lawrence's parent's ignorance of this fact that Simran is already married to Madhavan.

Kamalhasan, with his tonsured hair and Rajini, without showing his face(!) congratulate Madhavan. Once every 15 minutes, Madhavan is subjected to autographs and applause. The directs has tones of faith on Madhavan. And, he in turn, has done his job without much confusion either.

Simran is the surprise package. The situations suit her acting prowess. After the separation, she portrays her longing for Madhavan and her growing love for Lawrence pretty well. She'd walked a tight rope in this movie as far as acting is conceived.

Sneha's nurse costume fits her beautiful.

Lawrence, who was blessed by 'the ringed finger' as the next superstar, has done his role brilliantly. His dance related mannerisms are untire some till the end of the movie.

Vivek is another doctor. Loves Sneha. Unreciprocated though. Removing two 25 paise coins from the kid who had swallowed a 50 paise coin and making Sneha stand in front of a patient with a chronic back disability to make him stand erect (to get a full glimpse of Sneha) - well, the movie proceeds light heartedly. But the treatment that Vivek's character receives during the second half kills the movie.

A.R.Rehman's songs failed to set the town ablaze due to the delay though the twists and turns are very intriguing, the audience is too drained and tired to appreciate it.

Most expectations from his 100th movie turned out to be disappointments. As far as KB is concerned, this is neither a complete success, nor a wash out failure.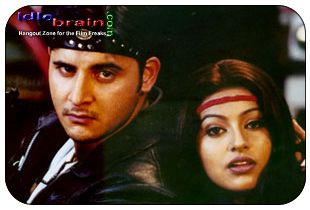 Pammal K Sambhandam (Tamil film)
After a very long time Mouli is making a film in Tamil and for the 10th time Kamal and Crazy Mohan reunite to make this movie. That being the case, expectations sprout automatically.

Having taken charge of story-screenplay and direction, Mouli had spun a beautiful story with a very finely balanced dose of comedy and sentiment and had woven a very realistic, natural screenplay thus creating a subtle and beautiful vein of laughter.

Kamal and Simran are matrimony-phobic. When they get down to separate Abbas and Sneha, clash starts.

At a point where Simran operates on her rescues Kamal, she stitches his belly up, accidentally leaving her watch inside. A comedy riot ensues. She finds herself pushed to the role of Kamal's ladylove and towards the end, married him amidst all fun and hoopla.

Love confusions are fine in a comedy movie, but a grandpa yearns to get Kamal married away and family atmospheres make this a surprising formula.

In the beginning, it a slight drag with the scenes predominantly revolving around Abbas - Sneha driftlings apart. Real pace, fun and laughter begins after Simran stitches Kamal's belly up with her alarm, which accidentally left behind in his stomach cavity. ("Watch in the belly? Then hunger will strike at precisely the right time" goes a dialogue!)

The physical alterations that Kamal had undergone for 'Nandu' had greatly helped his stunt double Sambandham.

When Simran shuns him, Kamal with gasps, asks her, "I know you've got cancer and you're going to die in another month. That's why you're avoiding me aren't you, with all genuine innocence. The scene conveys its contagious sorrow excellently.

After 'Vaali', this the only movie where Simran gets to show her acting skills. The required expressions appear in seconds. Savitha's dubbing had added strength to her acting (Maybe Roja's made her famous remark after watching this movie!)

Abbas-Sneha's character take off at the speed of Jet aircrafts to be landed finally as 'mission aborted'. The Australian job to separate/unite them only adds confusion.

After Kamal and Mouli all credits are due to 'Crazy' Mohan. The 'Keep left' phrase had been so innovatively analysed and interpreted in a new way. If samples are anything to go by, this is the best one to give the viewer the idea of what's in store. His dialogues tickle the audience tirelessly till the very end.

Among Deva's songs, three are enjoyable. But a constant 'Yendi Choodamani' background track in a rasping old voice is very annoying.

Simran trying to draw Kamal toward her with an ulterior motive to retrieve the watch in his belly and Kamal falling in love with her because of this are all part of a strategy to spin a good screenplay for a beautiful comedy.

But Simran telling Kamal that she doesn't even like to see his face and her falling in love with him subsequently is slightly indigestible.

But, with director Mouli handling even this humourously had helped the movie conclude on a cheerful note.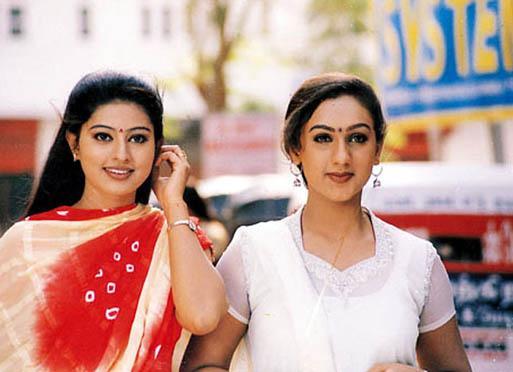 Punnagai Desam, Tamil film

(Source : www.india4u.com)


Cast: Tarun Kumar, Kunal, Hamsavardhan, Damu, Sneha, Preetha Vijayakumar
Music: S.A.Rajkumar
Director: Shah Jahan

Punnagai Desam has a strong scent of Vikraman's Pudhu Vasantham. The reason could be that debutant director Shah Jahan has worked as Vikraman's assistant in a number of movies.

The story of Punnagai Desam is about three friends (Kunal, Hamsavardhan, Damu) who come from the village to Chennai. Each one of them has an ambition to attain in life. Devoid of help from family and relatives, and without money in hands, they find it very difficult in the city. Things change when a new friend (Tarun) joins them.

Tarun has his own ambition which is to find his sweetheart (Sneha) from his childhood days. But, he sets aside his personal dreams for the sake of his friends and helps them fulfill their ambitions.

Even though the story of the movie is not new, it is entertaining mainly because of the fresh faces we get to see. The performance of Tarun, who makes his Tamil Movie Debut is impressive. Kunal and Hamsavardhan do their roles reasonably well. Sneha is very pretty and Preetha fares well.

Music by S.A. Rajkumar is average and the director Shah
Jahan has managed to deliver exactly what his producer R.B. Choudary asked for.

Punnagai Desam is a decent entertainer for all and a moral booster for ambitious youths.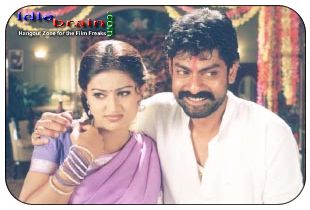 Hanuman Junction
Cast: Jagapati Babu, Venu, Arjun, Laya, Sneha, Vijaya Lakshmi, Jaya Prakash Reddy, Brahamanandam, Rallapalli, M.S. Narayana and Kovai Sarala
Story: Rafi Meckardin
Dialogues: Thotapalli Madhu
Camera: Ram Prasad
Fights: Kanal Kannan
Art: M Kumar
Co-directors: Seetha Ramaraju and M.N.R
Music: Suresh Peters
Screenplay - Direction: M Raja
Producer: MV Lakshmi
Presented by: Editor Mohan
Theatrical Release Date: 21st December 2001
Story

Krishna (Arjun) and Dasu (Jagapati Babu) are orphans and are close friends since childhood. Their motto in life is to win over the people and market by brute force methods. They start KD & Co together and make a fortune. Dasu has a younger sister Devi (Vijaya Lakshmi). Krishna too treats her as his own sister. Three of them live together and own a fortune earned at Hanuman Junction. Krishna has a childhood sweetheart Manjari (Sneha).
Sathru (Venu) joins KD & Co as a manager. He has a flashback. He loves Devi back in college. But she expresses her helplessness by telling that she marries the guy who is recommended by her brothers. Sathru is on the mission to win over the brothers to marry Devi. KD & Co organizes a cultural show in which Sangeeta (Laya) participates as a singer. The foolishness of KD & Co makes Sangeeta stay for four extra in Hanuman Junction, which lands her in a soup. When Sangeeta attempts suicide, Dasu and Krishna rescues her and brings her to their house.
Now Sathru and Devi decide to get a suitable girl each for Krishna and Dasu so that they will give green signal to the marriage of Sathru and Devi. From here onwards, the comedy or errors start. The relationships among the pairs alter. If you want to know how a serious mass film turn into a comedy flick with Venu excelling as a comedy star, you got to watch Hanuman Junction on the silver screen.
Artists:
Artists: Jagapathi did a role of stupid, yet innocent, mass guy and he excelled in that role. Arjun underplayed his character to perfection in this film. Venu turned out to be a revelation as a comedy actor through Hanuman Junction. Sneha is really cute and homely-looking in her role. She is the perfect fit for her character. Laya did her role with ease. New heroine Vijaya Lakshmi is good looking and appears like a pure Telugu product. LB Sriram provides comic relief. Brahmanandam, MS Narayana and Kovai Sarala excel in their brief roles. Jaya Prakash Reddy is pretty good as the villain.

Technical Departments:
Screenplay - Direction: The story and relationships in this film are quite complex. But the whole credit should go to the debutant director Raja to narrate story in such a way that all the viewers understand the complex and randomly changing relationships clearly. The film looks solid in most of the scenes. The director could have taken proper care to trim the unnecessary fight in the climax. This director knows the mass pulse. He can also effectively handle situational comedy.
Dialogues: The lifeline of this film is dialogue department. Marudhuri Raja has done excellent job in penning mass and comedy dialogues.
Comedy: Comedy in this film is very good. Venu character is full of comedy. Kovai Sarala has a brief role. She has a naughty dialogue 'Naa Boothe Naa Bavishyathu' (referring to 'Na Bhutho Na Bhavishat). There is one particular cow scene in this film in which LB Sriram and Venu gets dressed as cow and create a laugh riot in theater by entering the house of Krishna & Das. Much of the comedy in the film is situational humor.
Music: Suresh Peters has provided music for this film. Two of songs are good. But the background music of the film is inspired one.
Editing - Production: The editing of the film is crisp except for the climax. The production values are high. Each song in the film has at least 40 artists on the screen all the time. Editor Mohan is good at choosing suitable Malayalam films and changing them to suit the nativity of Telugu films.
Analysis: Hanuman Junction is a mass film with sufficient comedy stuffing. You got to forget some logic while watching this film to extract viewing pleasure. This film is from the makers of 'Kshemamga velli Labhamga Randi' and it does not disappoint, if you have no expectations. But the big question here is whether this mass film clicks at box office where only the love stories are ruling the roost.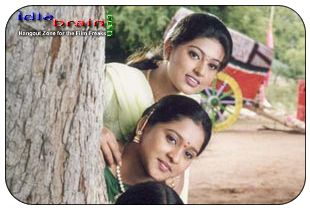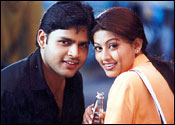 Producer G.Venkateshwaran (G.V), who had produced such successful films like the Maniratnam - directed Mouna Raagam, Agni Natchatram, Thalapathi, and the Suhasini - directed Indira took a five-year sabbatical from film production. G.V. then returned to producing, and launched two films. Thamizhan the first production starring Vijay and Priyanka, has been released. His second venture Aiy Nee Romba Azhaga Irukke the Shaam - Sneha starrer being directed by Vasanth is to hit the theatres soon.
A love story, it is written by Ashok Aiyer, with screenplay and direction by Vasanth. The film has five songs, each composed by a new music director who make their debuts with this film. They are Murughavel (brother of singer Anuradha Sriram), Srinivas (singer), Ramesh Vinayakam (Jingle Composer), Aravind - Shanker, and Raghav - Raja. Says Vasanth, They all had approached me individually, I found them talented, and this was the only way I could accommodate them all.
The films supporting cast has Vivek, Delhi Kumar, Lalitamani & Bombay Gnyanam. A scene was shot at the Chitrakulam pond near Mylapore, Chennai. Shaam and some stunt actors took part in the scene. A gang of rowdies tease the womenfolk as they pass by them. The rowdies become bolder, and one of them even pulls a girl by her hand. The girl, who had come to the shop to buy something, is taken aback and looks around for help. Hari passing by, sees the girl's plight, goes straight to the rowdies and asks them to let the girl go. The rowdies now start taunting him, and a war of words result. In the skirmish that follows, Hari bashes up a few, and chases the others as they try to run away. Vikram Dharma coordinated the stunt sequence, as Gopinath canned the shots, and Shaam & some fighters enacted the scene.
The film has editing by V.T.Vijayan, art-work by Raghavan, and lyrics by Pazhanibharathi, Thamarai and Pa.Vijay. The films audio cassette was released in a novel way with the music composers being introduced on stage, and their respective compositions sung live on the stage by the respective singers. Says Vasanth, Its a love story but I have given it a unique treatment."
(Source: ChennaiOnline)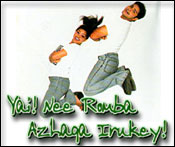 Unnai Ninaithu

WHEN SELFISHNESS and ingratitude are rewarded with sacrifice and goodwill, it naturally irks the story of Lakshmi Movie Makers' does. Here is a young employee of a lodge, who goes out of his way to help his impoverished neighbour and his family and all he gets in return is humiliation. What is worse, he takes it all lying down. The climax is on expected lines and the treatment lacks punch. It is difficult to believe that ``Unnai Ninaithu'' has been written and directed by a person of Vikraman's stature.
Circumstances force Surya (Surya) to work in a lodge, which he actually owns. Nirmala (Laila) and her family live close by. Surya falls in love with Nirmala and even helps the poor family with their daily bread. When Surya comes with a huge box of grocery, the dad, mum and Nirmala remind him of the sugar that they had forgotten to add to the list! Immediately you feel a sense of revulsion towards them. But our hero is too naive to see beneath the surface! Soon a wealthy guy, Selva (Ramji) comes their way and they cast away Surya for Selva. No, that's not the end of it. They learn their lesson a little later. But never mind, the nincompoop is always around and bales them out yet again and even helps Nirmala become a doctor. The only exception is Nirmala's young brother (Hari Prashanth). The child's observations and expressions make you feel that the character is to be developed further but it is not.
Radha (Sneha) meanwhile, is in love with Surya. If tedium sets in, in the climax the dialogue is the culprit. The similes, metaphors and aphorisms that go on endlessly test your patience.
Surya as the ever-sacrificing hero wallowing in self-pity is irritating. His is an underplayed performance all right but the tears that well up at the drop of a hat could have been curtailed a little. Incidentally, why has the young man lost so much weight? Surya's prowess in dance is commendable and so are his acrobatics (``Chocolate'' song).
Laila's character is neither here nor there. She falls in love when told to, stops when asked to and carries on with another man, again on instructions from the parents an activated doll in more ways than one. Sneha, in contrast, has more life and evinces a youthful charm.
There is a whole lot of comedians in ``Unnai Ninaithu'' it is humour that is lacking. Every incident involving Charlie, for example, is so predictable.
The avarice of Nirmala and her family put together reminds one of Deepa's role in the Rajinikanth film, ``Johnny''.There, greed was punished here it is showered with gifts.
Laila and Surya have been separated it is some time before they meet again. He coaxes her into writing the medical entrance examination. She does, clears, becomes a doctor and is posted elsewhere. But even after all these years, her young, school going brother looks the same! Was he caught in a time warp of sorts?
The story must have had a strong theme to begin with and the screenplay surely aims at conveying something different. But things do not progress in that direction.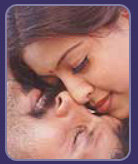 King, Tamil film
King' is the first production venture of S.K. Krishnakant who had earlier worked as the production executive for Lakshmi Movie Makers. Writing and directing the film is A.X. Solomon who had worked as assistant to director Agathiyan, and directed a Kannada film with hero Ravichandran. Solomon had also directed the Arjun-Sonali Bendre starrer 'Kannodu Kaambathellam' in Tamil, under the name Prabhu. But with the film not doing well at the box office, he changed his name to Solomon for his second Tamil film.
Scenes were shot on Vikram, a few junior artistes and some children recently. Santosh resides in a colony and seeing the children of his neighbours whiling away their time, calls their parents and puts forward a suggestion. "Most of you seem to have come from rural areas. The fresh air, the cool streams, the green fields and the juicy mango fruits. I'm sure all of you must feel nostalgic about this. But your children, having been brought up in the city, would hardly be knowing what they are missing." "So what?" asks a neighbour. "Leave them with me on Sundays and I'll teach them what real fun is!" Next Sunday when the children gather at Santosh's house, they are in for a surprise and good time.
Yet another fight scene had Vikram and some stuntmen involved. Shot on the waters near Royapuram, seven boats were hired and it took three days to shoot the fight. Santosh, fed up of the happenings around him, takes a boat and sets sail to the middle of the calm waters in search of some quiet moment. Suddenly he is surrounded by armed men in boats, who assault him. But Santosh gives them the beating of their lives and they run away. Mahanadi Shanker played the leader of the rowdies. With Teja choreographing the stunts, the camera was handled by G. Ramesh. The film has artwork by S.A.C. Ramki, and music by Dhina.
Produced by Indian Theater, the film has a supporting cast of Bala Singh, Mohanram, Mahanadi Shanker, Ponnambalam, Kalairani and Master Lokesh.