(Source : www.sify.com)


On a marquee crammed with Bollywood rejects and beauty queens, the two-film old actress Sneha is the hottest name in the Tamil film industry. The heroine of Ennavale and Aanandam and about to be released Virumbigiren is the most sought after heroine today. Rarely has the Kodambakkam film industry raved so much in expectation. The director of Aanandam, Lingusamy was heard saying recently: "Sneha is natural and brilliant. Everything about her from body language to expressive eyes-is just right." The song in Aanandam, "Pallankuzhiyin vattam pathen Ottainanayam......... was such a big hit only because of her.

So what is it about Sneha that is evoking the kind of buzz not heard of before? Sneha, born in Mumbai and brought up in Dubai is actually from Rajamundhry in Andhra. She was spotted by the noted director, Fazil, while doing a cultural show in Dubai who recommended her to the director of the Malayalam film Engane Oru nila Pakshi, opposite Kunchacko Boban. Through the film flopped, she was noticed by the Tamil and Telugu industry. She was immediately signed for R.B.Chowdarys Priyamania Neeku in Telugu which was major hit.

She has learnt folk dance and Bharathnatyam, and takes part in cultural shows organised by Choreographer Kala Master. Sneha is not too keen to do glamorous roles and would prefer performance-oriented roles. Watch out for her performance in Virumbigiren, where she has acted without make-up. Last week she was signed by the numero uno director Vikraman to play superstar Vijays heroine in his next untitled venture. Already she is doing Kamalhassans Pammal.K.Sambandam, K.Balachandars 100th film Parthale Paravasam, R.B.Chowdarys Punnagal Desam and a few Telugu films.


Sneha In the big league

(Source : www.screenindia.com)

Born in Mumbai and brought up in Dubai, it was a chance meeting with director Fazil at a cultural show there that Sneha landed straight in Kerala on the latters advice and bagged the lead role in the Malayalam film, Engane Oru Nila Pakshi, opposite Kunchako Bobban. And then opportunities came one by one to her in Tamil and Telugu - Ennavale, opposite the latest heartthrob Madhavan and with Abbas in Super Good Chowdarys Anandam now running successfully. Her forthcoming Tamil film is the Prashanth starrer, Virumbigiren. In Telugu, though her maiden release, Ninnuchoosaka, dubbed from Ennavale failed to click, however her first straight film R.B. Chowdarys Priyamaina Neeku is now heading for a silver jubilee run.

Her second starrer in Telugu with debutant Gopichand, Tolivalapu, directed by Muthyala Subbiah, is due soon. Does it sound like pages from her dates dairy, then there are some more - the most prestigious assignments are to follow, Parthale Paravasam, the hundredth directorial venture of veteran K. Balachander, the Kamal Hassan-starrer, Pammal K Sambandham, R. B. Chowdarys Punnagai Desam, one film with Vijay and Editor Mohans Telugu multi-starrer, Hanuman Junction. She has signed these many films just within two years of her entry into the world of make-believe! And that vouches that Sneha had arrived!!

"My parents hail from Andhra Pradesh and my mother tongue is Telugu but since my early childhood was in Mumbai and later my family shifted to Dubai, I had never had the opportunity to learn the language. Now I am picking it up," says Sneha with a bewitching smile while shooting for producer M. Nageswara Raos Tolivalapu in Ooty. In Dubai, with many Tamil and Malayalam friends there, she learnt to speak these two languages fluently.

How did Fazil spot her? "I learnt folk dance and Bharatha Natyam. I was one of the participants at a cultural show in Dubai organised by Kala Master. Fazil saw me and said that I have the features to make it in films. My aim since childhood was to become famous in some field. Being in films offers this scope too. My parents encouraged me. I was fortunate to get an assignment immediately, in a Malayalam film. I landed in India on November 1999 and signed Engane Oru Nila Pakshi. Even before the completion of my first film, I was signed for Ennavale. Then R. B. Chowdary took me for two of his films, a Telugu and a Tamil venture. Things happened in quick succession. I am fortunate that way. I like sentimental roles with youthful appeal and again fortunately I am getting such meaningful roles, each different from the other. In Tolivalapu, my role as a working woman undergoes certain complex situations. It is full of fun at the same time a very powerful role matching with that of the heros. Given an opportunity I would like to work with Muthyala Subbiah once again."


Sneha says that she has no role models as such. "I am a film buff and watch every film that I can. Personally I am a fan of Sridevi and Kajol. But they dont influence me in a greater way. Out and out glamorous roles are not my cup of tea. Glam costumes are okay for me in songs but I prefer performance-oriented roles".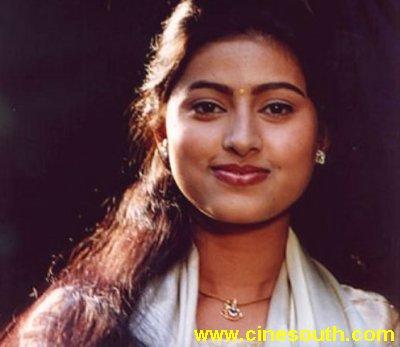 Sneha The wide-eyed, homely looking actress

(Source : www.india4u.com)

"Pallanguliyin Vattam Paarthen... the song from Aanadam, was a smash hit recently. Featuring in that song was the wide-eyed, homely looking actress Sneha. In a field full of Bollywood rejects and Miss Worlds, Sneha, with just two released Tamil movies (Ennavale and Aanandam) to her credit, is the most sought after actress in Kollywood today. In recent times, it has been quite rare for an actress of Telugu origin to be as much raved about in the Kodambakkam area, as Sneha.

Though born in Mumbai and brought up in Dubai, she is actually from Rajamundry, Andhra Pradesh. Noted director, Fazil spotted her while doing a cultural show in Dubai and recommended her to the director of the Malayalam film Engane Oru Nila Pakshi, opposite Kunchacko Boban. Though the film flopped, she was noticed by the Tamil and Telugu industry. She was immediately signed for R.B. Chowdarys Priyamaina Neeku in Telugu, which was a major hit. She starred opposite Madhavan in her first Tamil movie Ennavale. Although the movie did not do well, Sneha became well known amongst not just the producers and directors who began to cast their eyes on this new bird, but also the fans of Tamil cinema who have been longing for a homely looking heroine for quite sometime now. All the leading Tamil magazines praised Sneha's performance in the review of Ennavale. With the release of her first movie itself, she left her mark as being a good actress, in addition to being a very good-looking girl!

Then, came the R.B. Choudary production Aanandam featuring a long list of stars of the class of Mamooty and Abbas. S.A. Rajkumar's excellent number "Pallaaguliyin..." featured Sneha and she was cast opposite Abbas in the film. She looked tailor made for the role and her market rose up with the release of Aanandam. Today, she is busy working in about ten movies.

Sneha's upcoming releases include Pammal K. Sambandham with Kamal Hassan and K. Balachander's 100th movie Paarthale Paravasam, which is the story of a love triangle between Madhavan, Simran and Sneha. She stars in R.B. Choudary's upcoming movie Punnagai Desam and was also signed in Vikraman's upcoming project with Vijay. Another much awaited movie for this Diwali is Virumbugiren, in which Sneha is cast as the heroine opposite Prashanth. She has learnt folk dance and Bharathnatyam, and takes part in cultural shows organized by Choreographer Kala Master. Sneha prefers performance-oriented roles to glamorous roles.

Based on the fact that her performances have impressed "Iyakkunar Sigaram" K. Balachander enough to cast her in his 100th movie, one can surely say that Kollywood has finally found the actress it has been looking for long. A rare blend of beauty and talent!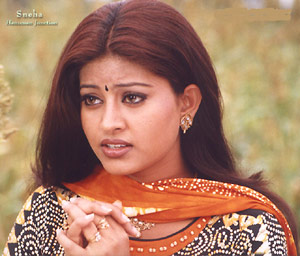 Sneha sends waves

Sneha is the most talked about heroines of the day.
Presently, she is working with legends like Balachander and Kamal Hassan. Soon she would be acting alongside Ajith in 'Vaamana'. She would be sharing the screen with Vijay also in a film. 'King' would be pairing her with Vikram. Does she have lucky spots all over her body? For sure, the days ahead would be very bright for her. It seems it would be Sneha all the way for quite some time in the near future.
With the arrival of each day break fresh news are being broken about her - more than any other heroine, Simran, Jyothika and Bhoomika included. Says Sneha in her jubilant mood, "I am eagerly expecting the release of 'Virumbukiren'. The film has turned out to be a wonderful outcome. The film is sure to boost my image. So I needn't worry about any other thing. The future looks prosperous for me. I am damn sure of it".
She has also some distant dreams to cherish such as playing a miraculous character as Sridevi has done in 'Moonraam Pirai', to lend her own voice for her film roles and to bag a national award in proof of her acting prowess.

She is a new star in the industry and can speak fluent Tamil. The hottest heroines in Kollywood, Jyothika, Simran and Laila, definitely lose points on this score at least. Sneha, heroine of the yet-to-be-released Virumbukiren, has already won rave reviews for her proficiency in the language and had two releases, Anandam and Ennavale, before the release of her first film opposite actor Prashanth. Even while acting in Virumbukiren, the film for which she was first signed, Sneha completed the other two, which did extremely well at the box office. The smart actress is also working in the Kamal Hasan-Simran starrer Pammal K Sambandam and with actor Vijay in a venture directed by Vikraman.