10) Smooth Operator: Sneha
11)
Sneha injured while returning from shoot
12) Sneha discharged from hospital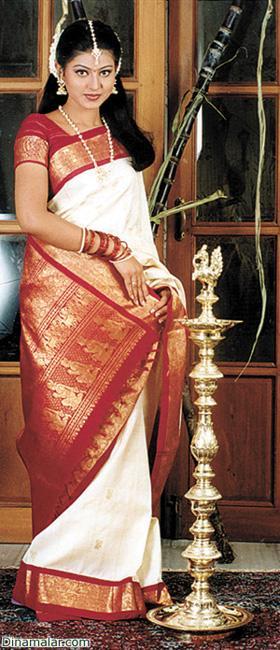 Sneha means friendly
(Source : www.msn.com )
For an actress whose first official film is still to see the light of the day (or is it the darkness of the theatre?), Sneha has indeed come a long way.
The svelte actress has acted with almost all the top stars in both Tamil and Telugu. And the general consensus in Kollywood is that Sneha is the next numero uno of the industry.
But Sneha is not ready to be humoured by such sweet words. Just discharged from hospital, after an operation on her leg that was necessitated by a car accident while she was coming from shooting, Sneha is more intent on completing her assignments that have been delayed due to the mishap.
"I am a professional actress. So my mind is on films only," she says smiling.
The films right now in her kitty in Tamil are King with Vikram, April Madhathil with Srikanth, Ye Nee Romba Azhagairukka with Sham.
The last named is in fact pretty well known due to the reported incident involving her and the hero Sham. "I am not ready to say anything on that," she clams up. But it is not defensively, but diplomatically.
Representative of the fact that Sneha is climbing up the popularity charts quickly is that she has acted with both top stars as well as young heroes. "I am happy for that. But my ultimate aim is not acting with so and so star. My goal is to just keep acting."
That is on odd sort of nirvana.
But Sneha has managed to retain her philosophical outlook on life despite the blinding glitz and glamour of tinsel town. "The essential 'you' doesn't change just because the surroundings change," she says.
Talking of changes, Sneha's is a changed name. Her original name is Suhasini. "I am still called so in my family. Since there was an established actress in the same name, I was forced to change mine. But I have not changed my personality".
She still keeps talking endlessly with friends over the phone. She still plays practical pranks on her family members. She still bathes her favourite teddy bear. She still reads novels. She still dances by herself.
"Well, I had to cut down on these because of my shooting commitments. Now this accident has given me an opportunity to do things close to my heart".
That's typical Sneha. Always looking at the sunnier side of life.
(source: India Syndicate)

The Sneha Bug!
By Moviebiz
What is it about Sneha which is making everyone root for her? She is a thorough professional, always smiling, no starry tantrums, and is easily accessible to the producers and press. The media is already projecting her as the next superstar heroine.
The younger lot of heroes, Shaam, Srikanth, Tarun and Maddy swear by her. Recently Shaam was so smitten by the Sneha bug that while shooting a song sequence for Yai Nee Romba Azhaga Irukkey, he accidentally kissed her, where a scene demanded a very romantic approach! And the grapevine is abuzz with rumours of a hot, hot and hush-hush affair brewing between her and the handsome hunk Srikanth. Both of them are now shooting for April Madhathil and the chemistry between them can be seen on the sets of the film.
The older heroes Vijaykanth and Arjun have been pestering her for dates and believe it, she has said NO to Vijaykanth saying that her dates are full! Vijaykanth wanted her for Rajiyam and is now asking her for dates for his new film. Arjun on the other hand has told her that he would start his film only after getting her dates. Sneha has even rumoured to have told a producer that she has two minds of doing a film with Maddy, as both the films she did with him did not do too well.
So what is the secret behind Snehas success? Her decision to act only with the younger lot of heroes is making her the hottest property in town.
Sneha conquers Tollywood, too!

09th Mar 2002 10.54 IST

Much-sought-after Sneha, who is riding the roller-coaster in Mollywood, has made it to the top in Telugu film world, too.
The films that have made the most happening star in the Tollywood are Hanuman Junction and Brahmachari. The latter is the Telugu remake of Kamal Haasans Tamil super-hit Pammal K. Sambandham.
A factor that facilitated her meteoric rise in Tollywood is the fact that she is the only Telugu-speaking heroine the industry, bristling with Bollywood rejects!
The last of the successful Telugu heroines was Vijayashanthi. The Telugu heroes distinct preference for goris from Bollywood saw the exit of dark-skinned Vijayashanthi.
Hope Vijayashanthis fate does not overtake swarthy Sneha, who hails from Rajamundry in Andhra Pradesh.
Meanwhile, Sneha is ruling the roost in Mollywood as well, with her Pongal release Punnagai Desham raking it in.
(www.dinakaran.com)

For the 5th year, Dinakaran conducted, this year in collaboration with Medimix company, the Award distribution function at Nehru Indoor Stadium, Chennai, on 11th March, 2001. In this grand gala event, the awards meant for the year 2000 were distributed to the winners.
In recognition of her performance in "Ennavalae",Sneha won the Best Newface Actress award and the gold medal which she received from actress Radhiga Sarathkumar.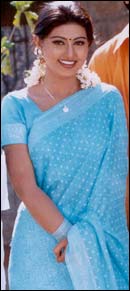 The ones who made a mark
(Source : www.hinduonnet.com)
VIJAYAKANTH, DEVAYANI and Kushboo have been adjudged the best actor and best actresses for the year 2000, by the Film Fans Association. The best of 2000 was announced by Mr. R. S. Cunnaih, honorary secretary, at a function here recently.
The outstanding contribution to filmdom award goes to actor Kamal Hassan, who has acted in more than 100 films. The eminent film personality of the millennium award this time went to Mr. D.V.S. Raju and the man of the millennium award will be received by producer Mr. P. V. Gangadharan and movie magnate of the millennium award is for producer Mr. D. Ramanaidu.
The following are the cine best of 2000.
Tamil - Best pictures: ``Bharathi'' (Media dreams) and ``Vanathaipola'' (Oscar films).
Jury award: ``Hey Ram'' (Rajkamal Films International) and ``Rhythm'' (Pyramid film International). Producers: R. B. Chowdry (Supergood films) and N. Khaja Moideen (Roja Combines). Story and direction: Vikraman (``Vanathaipola''), Actor: Vijayakanth (``Vanathaipola'') Commendation: Chinni Jayanth (``Unakkaga Mattum''), actress: Devayani (``Bharathi'') and Simran (``Priyamanavalae''), (Music Director): Deva (``Kushi''), cinematography: Rajeev Menon (``Kandukondein Kandukondein'') Lyrics: Vairamuthu, character actor: P. Vasu (``Cheenu''), supporting actor: Jayaram (``Thenali''), actress: Sri Vidya (``Kandukondein Kandukondein'') villain: Prakash Raj (``Appu''), comedian: Vivek, Comedienne: Kovai Sarala, new face-male: Madhavan (``Alaipayuthey'') female: Sneha (``Ennavale''), playback singer-male: Srinivas, female: K. S. Chitra.
Telugu: Best picture: ``Kalasiundhamu Raa'' (Suresh Productions) commendation: Azad (Vyjayanthi movies), director: Poori Jaganath (``Badri''), music director: S. A. Raj Kumar (``Nuvuu Vasthavani''), cinematography: Madhu Ambat (``Badri''), actor: Venkatesh (``Kalasiundhamu Raa''), actress: Simran (``Kalasiundhamu Raa''), commendation: Renu Desai (``Badri''), supporting actor: Prakash Raj (``Badri''), actress: Kovai Sarala, playback singer-male: S. P. Balasubramaniam, female: Sujatha.
Kannada: Best picture: ``Sparsha'' (Sarovar Productions), director: Kavitha Lankesh (``Deveeri''), commendation: Naganna (``Soorappa''), music director: Prsanthraj (``Nannavale Nannavale''), actor: Sundeep (``Sparsha''), actress: Tara (``Munnudi''), supporting actor: H. G. Dattatreya (``Munnudi''), actress; Sudharani (``Sparsha''), child artiste: Master Manja (``Deveeri'').
Malayalam: Best picture: ``Santham'' (Grihalakshmi films), commendation: ``Mazha'' (Millennium Cinema), Director: Jayaraj (``Santham''), actress: Jayaram (``Kochu Kochu Santhoshangal''), actress: Samyuktha Varma (``Mazha''), supporting actress: K.P.A.C. Lalitha (``Santham'').
TV Bests of 2000. Producers: AVM productions and Vikatan television. Director: Venkat, music director: Dheena, actor: Sriman, commendations: Chethan, actress: Gayathri, commendation: Deepa Venkat and Haritha.
Best maintained theatres A/c: Shanthi theatre, Sangam group of theatres, Ega group of theatres, AVM Rajeswari and Kamala theatre.
Non A/c theatre: Mekala talkies and Natraj theatre. Preview theatre: South Indian Film Chamber of Commerce theatre.
Best maintained studios: AVM Studios (M. Saravanan) and Prasad studios (A. Ramesh Prasad).
Special awards to film personalities: T. Srinivasalu, J. V. Rukmangadan, K. Ramachandra Kurup and P. Srinivasa Rao.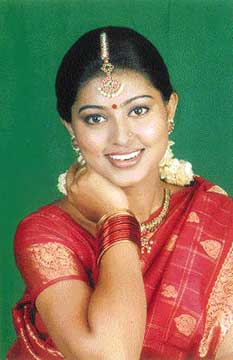 Sneha in K Balachander's 100th movie
(Source : www.kalapam.com)

K Balachander who started his career as a director with Neer Kumizhi now directs his 100th film Pathalay Parvasham with Madhavan- Simran and Sneha in the lead. The music is by A R Rahman and cinematography by A Venkatesh. Lawrence Raghvendra the choreographer is also in an important role. Vivek, who made his debut in KB's film Manathil OruUruthi Vendum, too is in the this film and for the first time Manivannan acts under KB's direction.KB who is a trendsetter and veteran who discovered Kamalhassan and Rajanikanth directs a love subject with a youthful team .Its produced by Pushpa Kandswamy under the banner of Kavithalaya films.


The great charmer

(Source : www.chennaionline.com)


Sneha's films may not have done all that well at the box office. She has no great performances to talk of either. But Sneha is the happening actress of the day. Whatever the fate of the film, and however bad the film is, Sneha manages to escape unscathed. The charm and grace she projects, her wholesome demeanour, and her confident easy appearance before the camera, are her plus points that gets her noticed. Not surprising that Vasanth has taken her for the title role in 'Nee Romba Azhaga Irukke' where she is paired with Shaam of '12B' fame.


(Vikram-Sneha)

He is selective about his roles, chooses films with care, and sees that he prepares for his roles physically and mentally. After 'Sethu', the actor went a little slow in signing films. 'Vinnukkum Mannukkum' came a year later and was a damp squip. But Vikram made up for it in 'Dhil', and the film re-established his position as an actor to reckon with, and also one who has his draw at the box office. There are other films on the floors like 'Kadhal Sadugudu', 'Samurai', 'Vikatan' and AVM's 'Gemini'. Then there is 'King' which might be the actor's next release and has him playing a magician and paired with him is Sneha. And for this film Vikram is practicing yoga. 'My first scene in the film opens with me doing 'Mayurasana,' says Vikram.

'King' is the first production venture of S.K. Krishnakant who had earlier worked as the production executive for Lakshmi Movie Makers. Writing and directing the film is A.X. Solomon who had worked as assistant to director Agathiyan, and directed a Kannada film with hero Ravichandran. Solomon had also directed the
Arjun-Sonali Bendre starrer 'Kannodu Kaambathellam' in Tamil, under the name Prabhu. But with the film not doing well at the box office, he changed his name to Solomon for his second Tamil film.

Scenes were shot on Vikram, a few junior artistes and some children recently. Santosh resides in a colony and seeing the children of his neighbours whiling away their time, calls their parents and puts forward a suggestion. "Most of you seem to have come from rural areas. The fresh air, the cool streams, the green fields and the juicy mango fruits. I'm sure all of you must feel nostalgic about this. But your children, having been brought up in the city, would hardly be knowing what they are missing." "So what?" asks a neighbour. "Leave them with me on Sundays and I'll teach them what real fun is!" Next Sunday when the children gather at Santosh's house, they are in for a surprise and good time.

Yet another fight scene had Vikram and some stuntmen involved. Shot on the waters near Royapuram, seven boats were hired and it took three days to shoot the fight. Santosh, fed up of the happenings around him, takes a boat and sets sail to the middle of the calm waters in search of some quiet moment. Suddenly he is surrounded by armed men in boats, who assault him. But Santosh gives them the beating of their lives and they run away. Mahanadi Shanker played the leader of the rowdies. With Teja choreographing the stunts, the camera was handled by G. Ramesh. The film has artwork by S.A.C. Ramki, and music by Dhina.

Produced by Indian Theater, the film has a supporting cast of Bala Singh, Mohanram, Mahanadi Shanker, Ponnambalam, Kalairani and Master Lokesh.
Jyotika sidelined to accommodate Sneha
Kodambakkam heroes have started sidelining actress Jyotika. She starred in a small role in film Vaali . Presently Jyotika has overtaken other heroines making the heroes chase her for supporting roles in her movies.

Reaching the top, Jyotika's tantrums became non-stop, annoying the cine world.

It is said that she used to respect all producers, directors and actors initially so that she could gain much popularity in the South Indian films. Of late Jyotika has been throwing weight around making all sorts of excuses and demands for her future roles.


Jyotika now avoids shootings when she finds that her favourite co-actors are not acting in her movies. She has become demanding in every aspect, especially with her roles in 'certain shots' and prefer to do roles in a non-embracing shots with her co-actors.

She does not mind acting with young actors but disagrees to act with senior and veteran actors.

Jyotika blindly approves to act with Shyam and Madhavan (young actors), while she avoids acting with Ajit and Vijay, which has annoyed most producers and directors. Not just this. She has hiked her role offers with great demands from the directors and producers.

Recently Jyotika demanded a huge role offer to act with a famous senior actor, after he consented to her demand she agreed to act with him. (So much for the heroine's demand) Many producers and directors have started sideling Jyotika for the new face Sneha. Cine world has booked and prefer Sneha. This would continue giving Sneha hot role offers. Pity that Jyotika lost to Sneha!

Smooth Operator: Sneha
(Source :
http://in.movies.yahoo.com
)
Though she made her debut in 'Ennavalle' it was the film 'Anandham' that really clicked for the little nymphet Sneha. When heroines being imported from Bollywood were dominating the Tamil film industry, she earned the appreciation of most of the people in the industry for being an actress from Tamil Nadu itself who finally knew to speak Tamil fluently. She bagged the role opposite Maddy in 'Parthale Paravasam'. She also did a commendable job in the comedy film 'Pammal K Sambhandham' opposite Abbas. Her earlier co-stars who enjoyed working with her would arrive early in the sets to have a chit-chat with her. But then things were going too perfect her way, so rumors started flying that she was arrogant and haughty in her work style. But Sneha was immediate to react to the situation, instead of being upset about the gossip flaring around; she found a 'plan B' to the situation. She has become a more reserved person. It was more of a strict cycle from the scene and back to the chair pattern, which she followed that earned her back the appreciation once again. Sneha is doing a film with Srikanth called 'April Madathil' and Shaam with 'Aye Nee Romba Azhaga Irukkey'
Sneha injured while returning from shoot
Friday May 17, 12:45 PM

(Source :
http://in.movies
. yahoo.com )
The petit actress made her debut in 'Ennavalle' opposite Maddy, she went to star with Abbas in 'Anandham' and 'Pammal K Sambhandam'. The other movies she has starred in, are 'Parthale Paravasam' with Madhavan and 'Punnagai Desam' with Tarun. Sneha's recent film 'Unnai Ninaithu' with Surya, which relatively turned out to be a successful film, is right now running in the theatres. While she is busy dealing with the "love bite" rumours spreading around tinsel town about Shaam and her in Vasanth's film "Yea Nee Romba Azhaga Irukey' there is another pain down her back she has to deal with for the next month. While she was returning from a shoot for the film 'April Mathathil' wherein she is starring with Srikanth of 'Roja Koottam' fame, her car rammed into a tree near Reni Gunta. The doctors have diagnosed Sneha with a fracture in her backbone and ankle while her mother and driver suffered from serious injuries. The three of them have been transferred to Ramachandra Medical Hospital, Chennai after being initially admitted in a private hospital near Tirupathi. Actor Napolean met the actress in the hospital and wished the actress a speedy recovery.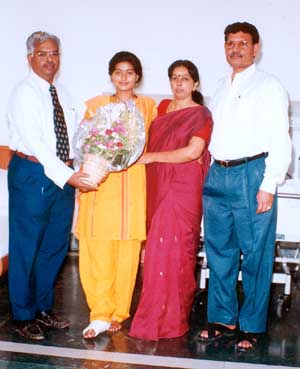 Actress Sneha, who was discharged
today after receiving treatment at
SRMC Hospital for leg injuries,
with Dr S V Sathyanarayana and
her parents Rajaram
and Padmavathy.
Chennai, May 30, 2002:
Actress Sneha who sustained leg injuries in a road accident while returning from a shoot in Tirupati, was today discharged from Sri Ramachandra Medical College Hospital here.
The actress sustained leg injuries in a mishap which occurred on 15 May, received first aid at a hospital in Tirupati, was later admitted to the SRMC Hospital where orthopaedician Prof S V Sathyanarayana treated here.
According to sources, Sneha has been advised rest till 15 June.
Sneha had gone to Tirupati in connection with the shooting for the film - April Mathathil, also starring actor Srikanth.